Vol. III, Issue #4 - November 2015
Strat-o-matic Baseball League
Commissioner' Interviews PART IV

** "Bill Veeck's Leg & Barefoot League" - Bob Colleary **
(Finally, in this last part of our new report about various SOM Baseball Leagues, for this
edition, we meet with one of the founders of the Bill Veeck's Leg, which is the National
League version (held in Spring) of this duo League system that now includes the Barefoot
League -- in homage to Shoeless Joe Jackson, the AL Winter version. We want to
thank Bob as the founder and inspiration of these two leagues for answering
our call and to tell their fascinating story - all different and cool!)
(Notes from the Wolfman: The BVL has been around for 16 seasons now and its new sister league, the BFL has just begun its first season, as stated with the BVL focusing on the National side and BFL on the American side. Eleven of the Fourteen managers in the BFL are in the BVL. These league rotate the duties of their officers and the commissioner. So for Bob, he just finished as the Chair of the Executive Committee for the BVL and he is the Chair of the Trade Committee in the BFL. The BVL was started in 2000 by Bob with his friend Mike Chernow, and Bob wrote the constitution using the best parts of all the leagues he had played in before. So Ultimate Strat Members, lets all meet Bob Colleary. )


---

Wolfman: Dear Readers -- we are honored and excited to be able to introduce you to Bob Colleary, the founder of the BVL (Bill Veeck's Leg) and a member of a complimentary league called the Barefoot League known as the BFL.

Bob, welcome to the Ultimate Strat Baseball Newsletter.

Bob

: Thanks for having me! Always glad to meet SOM gamers!

Wolfman: So Bob, when you were younger did you always have an interest in Baseball?

Bob: Yes actually it came from my mom's side. She grew up in Brooklyn and her family were all Dodgers' fans. When the Dodgers moved west, and the Mets showed up in 1962, they became Mets' fans. My grandmother in fact took me to my first game. My dad, otherwise a good man, had no interest in baseball.

Wolfman: Did you play in little league or high school and if so what was your best position?

Bob: I played in little league, but I wasn't too good. My high school team was way too good for me. But I went to a small college in Boston called Emerson and played there. I became better by then, a late baseball bloomer. I played 1B. My specialties were scooping the ball out of the dirt (and with our infielders that was important) and hitting the curve.

Wolfman: How about which MLB teams did you root for when you were very young?

Bob: I started following the Mets in 1966 when I was 8. I was a pretty diehard fan until June 15, 1977 when they traded Tom Seaver at the trading deadline. I was heartbroken. I never rooted for any team again. I consider myself the biggest baseball fan I know who doesn't have a winning team. I collected cool memorabilia, primarily of Babe Ruth (including one of Bill Veeck's wooden legs), for years. In 2009 the Baseball Reliquary, an irreverent fan's organization located out here in Los Angeles, presented me with their Hilda Award (named after baseball's first superfan, Hilda Chester) which solidified my "baseball crazy" status.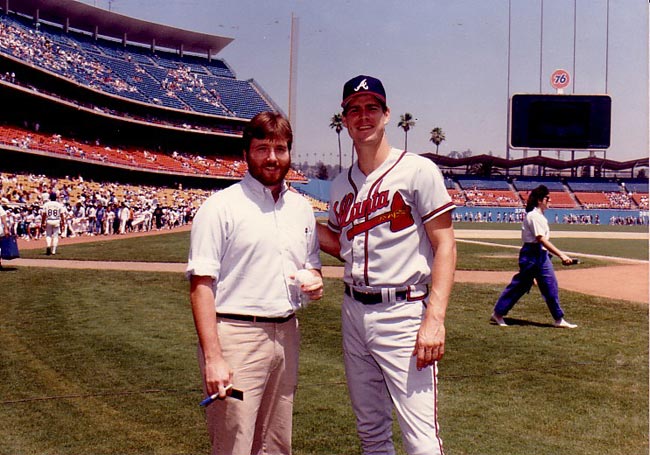 Here we see Bob with one of his heroes, the great Dale Murphy from the Atlanta Braves

Wolfman: Who are some of the individual players who are your favorites?
Bob: Babe Ruth and Dale Murphy are my faves. How Murphy is not in the HOF is beyond me. He was better than half the guys in there. Back to back MVP, went 30-30, catcher converted to Gold Glove outfielder, ambassador to baseball, squeaky clean, totally nice guy. Crazy.
Wolfman: Now tell us Bob, how did you first get involved with Strat-o-matic and when?
Bob: I was still in high school when I saw an ad in a magazine and bought the baseball and basketball games. Ironically I kept the basketball and returned the baseball. But when I went away to college there was a league happening there which I was invited to join, and I have been playing ever since. That's 40 years ago.
Wolfman: Before you began the BVL did you ever play in other other leagues or tournaments?
Bob: Played in many leagues, head to head and the grueling pre-computer "by mail" method. I ran a face-to-face league in LA for 20 years, the California Baseball Association. I played in one tournament, hated it hated it hated it. Turned out the organizer was playing with loaded dice!
Wolfman: Now Bob tell us the history about how the BVL started and what is the current status of your league now, how many teams do you have?
Bob: The BVL is an NL only, with 14 teams. Half the guys we have now were charter members. We keep 22 players per year. I was in a league with a real difficult person who was our czar/Commissioner and I felt that he had no integrity so I left. I then decided to start my own league, brought a few guys with me, we minimized the rulebook and devised a rotating committee-based system in which the league is run by everyone, and then invented a compensation system to account for being an NL-only league. The BVL will be headed into season #17 next year. We rarely have an opening. The BFL is copying 95% of the BVL rules, nobody in the BFL wants to change anything. Except a new guy of course, but we ignore him. :-)
Wolfman: What geographic region are the members of your league from. Is this a face-to-face league? How often do you play? Can you explain the structure of your league and how you decide your champion?
Bob: We have guys from all over the US and two in Canada. It's an computer league. Our schedule mirrors MLB's. We officially hold our drafts in Las Vegas on odd-numbered years. Usually we get 9-10 guys to come (in person). On even-numbered years a few of us go to Vegas anyway but it's unofficial from a league standpoint. Mike Chernow rents a big suite and buys breakfast for everyone and we draft, and then hang out the rest of the weekend, go to a show, etc.
We play two 7-team divisions. The two division winners get first-round playoff byes, and then the next four teams are wild cards regardless of their divisions. The playoffs are all best-of-7 and the final two teams play in The Leg Series.
On December 31 each year, the 8 non-playoff teams go into a weighted Leg Lottery and I make three dice rolls out of Bill Veeck's Leg and they get the first three picks.
Wolfman: Now can you tell us about BFL - what is the relationship with the BVL, how do the two leagues compare?
Bob: The two leagues are structured identically, using BVL rules plus the DH. The BFL's schedule is somewhat condensed time-wise so we won't have much overlap between the two leagues. Someday the BVL champ may take on the BFL champ but the BFL's got to pay its dues first. :-)
Wolfman: Is there any of your members who are perhaps well known SOM Baseball Gamers?
Bob: I have no idea, but several have played in long-running leagues. The BVL and BFL are my only two leagues. Two are plenty. Some guys play in more which I hate because sometimes they get their teams confused. Those guys don't win too often.
Wolfman: Now coming back to your own game play - what are some special experiences you have had as a member of your league - have you won any championships?
Bob: Yes, I have won the Leg three times. I don't go ever all-in, I like to be a contender most of the time. Once you sell out your team to go for it, it's too hard to get back up again. Our managers are a pretty decent group. Very tough to repeat in this league. It's only happened a couple times.
Wolfman: What are some of the greatest teams that have existed in your league? Which team and year won the most games?
Bob: Because we play 156 games, 100-win teams don't happen every year. This year we had a 116-win team. It was a great team to start with and then he chose (against my advice) to sell out some future to become even better. He lost the Leg Series in 7 games, in extra innings. My team won its division this year with 101 wins, but my offense disappeared in the playoffs and I lost to the eventual league champ.
Wolfman: Why do you enjoy playing in your league - what type of relationship exists with your members? Has there been any challenges to your league in the past where it might have ended? What makes your league unique?
Bob: The league is very balanced and stable and we rarely change rules. A bunch of guys live in the Chicago area and they see each other sometimes. I have met 10 of the other 13 guys. We did have a huge explosion after season 2 because we had a cheater who won pretty much every home game. Basically I threw him out (he denied everything of course) and asked the league to hang in. They did and it's been smooth sailing ever since. His name is not spoken in the league and his name was stricken from its history. He was a "real douchebag".
Wolfman: Tell us about some of the members of your current league? What are the ages of your members?
Bob: I can't really name some of them without naming all of them. We are a bunch of semi grownups, basically 40-60.

Wolfman: Finally Bob, this is the big question we ask everyone we interview for the newsletter, and since you have won several championships in your league(s): What do you attribute are the key factors and strategies you have used for your success in building these championship teams? Is there a certain type of team you like to play with that enables you to achieve your success and follow a master plan?
Bob: Well about team-building, I like teams with good power and deep bullpens. Because the BVL is so competitive, usually teams go "all-in" (trading away draft picks and/or younger players) in an effort to win a championship if they think they're close. Sometimes it works and sometimes it doesn't! I never ever go this route. I would rather make the playoffs pretty much every year and a championship once in awhile than win it all and need several years to rebuild the team. I have also found that the more solid is your manager core, the longer it takes to rebuild after a tear-down.

That said, I also make a TON of trades. No untouchables; makes me better, and we make a deal. Trading, if you do it right, is the fastest way to get good. Not every deal I have ever made has been a winner, but on balance I have done fine. And I always like to trade for extra draft picks, makes Draft Day more fun, and fun is why I'm in this!

Wolfman: If a member of our newsletter wanted to find out more about the BVL or BFL, do you have a website or publication you share? How important are league stats? What would be the best way to contact you?
Bob: The BVL has a site but I think it's private to keep the spam out. The BFL is just starting one. We keep all the stats. Best way to get me is through my email which is: colleary@prodigy.net. We also have a group on facebook, but it's one of those secret groups! I am also on facebook where I am very accessible too, so ask me for my facebook when you email me.
Wolfman: Thanks Bob for taking time to spend with us to discuss your strat experiences and your leagues.
Bob: Glad to! Looking forward to the new card set!