Wolfman: Marc, thank you so much for agreeing to do this interview. And don't worry about your English, I fully understand what you want to share.

Now Marc, before we go into your experience with Strat Baseball, and all the versions of the game you have played, lets talk about the early part of your life. Since you shared in your emails with me that you are not a native speaker of English then, where were you born, in which country and how did you become so interested in Baseball?

Marc

: Hi and thanks for giving me this opportunity to talk to the Strat community. I am a French-speaking Quťbťcois born in Montreal. The Expos had their first true seasons of competitive baseball when I was a kid, in the beginning of the 1980s, so I naturally became interested in baseball at that time.

Wolfman: When you were younger did you play baseball yourself?  Were you any good, what was your best position?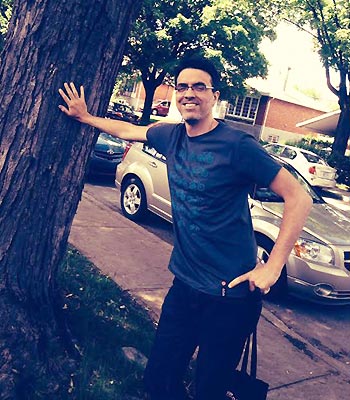 Marc: Even though I was born in a city where hockey is "religion", I always preferred baseball, but to my great disappointment, I wasn't very good at hitting the ball! I had myopia when I was a kid, but I was diagnosed only in my mid-teens, so that prevented me from being a good baseball player when I was younger. Actually, I still remember the first game I played with my glasses on. I was so struck by how small the ball was!! Without my glasses, the ball appeared as big as the full moon when it was thrown at me! No wonder I couldn't hit the ball!! You can easily guess that I wasn't very good at judging the ball in the outfield too, so I began playing mostly in the middle infield, and to this day, I still play shortstop, and I think I'm pretty good defensively. 

Wolfman: And which baseball team did you root for when you were younger? Who was or were you most favorite baseball players that you rooted for?

Marc: We were all behind the Expos in my community. This was a time when more than 2 million people would come to the "Big O" (their name for their baseball stadium) each year and watch baseball, so the Expos were quite popular here. My first favorite player was Tim Raines. He was so exciting, stealing bases, hitting doubles and so on. I remembered a game where he took a ball four to win a game...I thought it was so clever.

Wolfman: Now Marc, how did you hear about Strat-o-matic Baseball? I understand you have played the game for many years, being in a face-to-face league, please tell us how your got started? What was the first set of SOM Baseball cards you played with?

Marc: As a kid, I only played Strat-o-matic football, with my brother. We knew about SOM-baseball, but we had our hands full with reproducing football seasons, which had only 16 games per team. We couldn't imagine it to be possible that we could reproduce seasons of 162 baseball games.

Then, when we were young adults, my brother was invited to join an existing league -- a face-to-face baseball strat league in Montreal, which eventually evolved into a 12-team league. I was a co-owner of a team with my brother. We played seasons of 128 games. We started as an expansion team, in 1995 if I recall correctly, so of course, we had the leftovers from the other teams.

Our first stars were an aging Tony Gwynn with Tino Martinez ó the year he hit 44 homeruns. The first two seasons we were miserable, as I think we won 30 games the first season. As with most beginners, when we began, we didnít grasp the full importance of getting on-base. Our lead-off hitter was Doug Glanville ó no disrespect, and he did have a good card to be a starter on our club in a 12-team league, but a lead-off, in strat, he was not!!

We started to have a competitive team by our third year. We drafted a few rookies who turned out great, like Alex Rodriguez, the season before he had his breakthrough with 54 doubles and 36 homeruns, and Tony Glaus. We picked up a few free agents that turned out to have great cards, like Jason Giambi, who, before he had his monstrous cards, didn't have such a good-or-great cards as a third baseman rated 4 with a high "E". We also had Carl Everett, and Roberto Alomar during one of his subpar year, after which he bounced back the next year with a .400 on-base average. Then, we grabbed Bobby Abreu in a trade. By then, we could start with a lineup of Alomar, Abreu, Giambi, ARod, Everett, and Glaus. These players would become our core offensive team, and we won a championship in our fourth year then.

Wolfman: Now you are active in the on-line internet version of SOM Baseball - how did this start for you?


Marc: Well, it was becoming more difficult to sustain a full season in the face-to-face league---and indeed the league would eventually be dismantled soon thereafter --- so I started to play some seasons on-line to continue my passion. As I wrote earlier, I was a co-partner with my brother in the face-to-face league, and he was the one who coached most of the games, so my role then was already more like a GM than anything else. So the transition to the online game went smoothly for me because being a GM is really what you have to do with the online internet version, as the automatic HAL system does most of the coaching for you. However, I must add though, that the settings you have now to constrain HALís decision are much wider than it was at the beginning when this version of the game was on the TSN (

Editor's Note: The Sporting News - SOM made an agreement with TSN to offer their game on-line on their websites and then a few years ago they decided to offer this version themselves via the SOM website) platform. But still, the feeling one has when playing the online version is not like you are coaching a game, where you have to make all decisions and feel the pressure if you don't make the right choice, how it feels to fail. This is why many Strat coaches that I know donít like the online version.

Wolfman: Can you tell us then, what you do like about the on-line version of the game? How many leagues have you participated in now? What about tournaments?

Marc: Well, looking back in my archived teams, I have played in close to 100 seasons (leagues). SOM has my winning pct at .571, but if I concentrate on the typical 20XX leagues, my average record is 94-68. I have had 16 seasons with over 100 wins, including one this year, at 103-59. Since 2003 or so, there is a yearly tournament to decide whoís the best SOM on-line player. I participated only on four different occasions, including this year. My record on average in these yearly tournaments is at 91-71. I finished twice at first place after the regular rounds, including this year, but I have never been the last man standing, and it doesnít look like it will be this year either as my current Tour team is struggling big time and is likely to miss the playoffs all together.

What I like most to do in the on-line leagues is to evaluate players, find the bargains, and see how they perform in strat vs on paper (or what the player did in real life that season). I have almost as much pleasure building up my rating system and see how it works better than playing the actual games!! That makes me a nerd, I guess!!

Wolfman: Marc, can you tell our readers why you have you become so well known (like a legend) on the on-line game? What are the keys to your success? Is there specific strategies that you use?


Marc: I had success very early on when I joined this way of playing SOM Baseball and I have been quite active on the forum boards giving advice to other players, which I believe might explain my popularity.

As most of your readers probably know, there are a variety of league formats on-line, but in most typical leagues, you are given a budget, usually 80 million dollars (80M) to fund your team. So you select a stadium, and then you build a team by drafting players and then choosing free agents. The playersí salaries are decided by a small committee collaborating within the SOM staff at the beginning of the year and remain the same throughout the year.

To be successful, there are key strategies that are common both in the on-line game as well as in face-to-face leagues: First, you have to have a team that best fits your stadium and that will exploit your opponentsí weaknesses, particularly opponents in your division since you play 72 games against them (in the 12-team format which is common). But the most important strategy in the online game is quite different from face-to-face play: you need to pick up the best combination of valued players rather than the best players per se. On this aspect, what probably helped me the most is that Iíve been able, over the years, to build a rating system that is capable of identifying which are the best valued players (

Editor's Note - SOM gives each available player in your league a dollar value and with only so much money to spend, you have to take into account more their cost), and I believe that my record shows that my rating system is better at estimating the playersí real value than the suggested salaries structure given by SOM.

I believe that SOM has done a much better job in recent years in estimating correctly the players ability with their salary structure, but in my estimation, about 5% of this yearís set (2014), the salaries are off by 1M or more, and for 20% of the players available, their salaries are off by 0.5M to 1M (over and under included, using estimates for neutral stadiums). Players off by 1M or more can be easily identified by experienced Strat players --- to give an example: in the league Iím currently playing in, none of the 15 position players whose salary are overpriced by 1M or more in my rating system have been drafted. But players whose values are off by 0.5M are harder to detect with your naked eyes. If you can pick up good buys at the 16 most important positions (9 position players, 5 starting pitchers and 2 key relievers) and have an exceeding value of 0.5M for each player, you end up with a team that has a value of 88M but you only spent an amount of 80M. That helps to build a positive record.

My rating system is based on using linear weight formulas that are used in sabermetrics --- I mostly follow the lessons of Tom Tango and his collaborators in "The book" they published which is shown on his blog (tangotiger.com), except, that I adapted the linear weights for Strat. Strat is a very close approximation of baseball, but it also has its own logic, which can be computed sometimes with more accuracy than in real baseball.

The best example of this is clutch hitting. Clutch hitting is not captured by traditional linear weights, but it's of course an important part of strat. Other differences between baseball and STRAT are subtle but undeniably present in other contexts. Outs, for example, have different values in strat depending on whether they are coming from a gbC or a gbA, neither of which is exactly addressed by weights generated in sabermetrics. To calculate linear weights specific to strat, I generated my own matrices of linear weights and probabilities of events, and I calculated for each "strat" event its proper weight. Without giving more details, my explanations are probably abstruse for your readers, but I would be very happy to give more details in another publication. (

Editor's Note - Yes Marc, we would be very interested to go into your weight and rating system :-))

Furthermore, I always had more success with teams who had an excellent offense that played in highly offense-oriented stadiums, so I believe there are some strategic moves I do that are better in those type of stadiums than with teams who play in a pitchersí park. I like to spend disproportionally more on my team's offense, and I try to concentrate the top values (the players with the highest salary) at the top of my lineup, so usually I have four of the top 20 best offensive cards at these top 4 spots --- except in leagues where the pitcher hits, then in which case I allow myself to have a good on-base card at the lead-off spot. Usually, at the fifth spot, I have a player with top clutch hitting numbers, and I always try to have players with stellar defense at the bottom part of my lineup. I would never start a cheap DH like Kelly Johnson at the 9th spot and play a 4-rated centerfielder like Cespedes; I would rather move Cespedes to left fielder and play a 1-rated center fielder like Marisnick in the 9th spot.

I also like to carry a cheaper set of starting pitchers and rely heavily on a very strong bullpen, and this strategy fits better in a highly-scoring environment. However, even in a pitcherís park, I like to have one top reliever that I set both as a set-up man and as a closer. Itís very rare that I donít have a top reliever not finishing with at least 150 innings. Bear in mind that, with the rules governing relievers in the online game, a R1 rated reliever (

Editor's Note: Each pitcher is rated for their endurance which is what this R-rating is plus there is no rule that prevents a player to be used more than in real life which is why relief pitchers will go more innings) can easily pitch 140 innings without getting fatigued, and a R2 rate pitcher can go up to 160-170 innings. Finally, I like to have injury-prone players in my starting lineup, in part because my rating system has most of them as underpriced, but also because it gives more ways to optimize my bench and get extra value for the money.

Wolfman: What suggestions would you have for people who are new to the on-line gaming, to help them have more success? (

Editor's Note: Marc is again focusing on on-line leagues which use cards from 2000 on and that you have 80 million to spend on the players you stock your team with.)

Marc: As a I said, a key strategy in 80M leagues is to find good values for your stadium, and this means you must be confident that cheaper players will get the job done. One common mistake I see with new players is that they spend too much on pitching. They will spend 25M on 4 starters, plus 4M on a set-up man, 3M on a closer, and then 5M more on two more relievers that will end up with just 50 innings which is a very low leverage. So my first advice would be to pay careful attention to your needs with pitching. If you spend on 4 expensive *SP in a low-hitting ballpark, you might try to get the most of them and try to get 300 innings apiece, and thereby spend as little as needed on relievers and diversify the role of each cheap relieveróone reliever for mop-up, one or two lefty specialists, one or two righty specialists, and one closer.

(

Wolfman's Notes from prior articles -- to our members who read my articles using the Bruce Foster system, where I won an "All Time Greats" league, I did use this strategy Marc discussed with 4 very expensive (3 day rest) starting pitchers in a pitcher's park - my relievers were cheap and not exceptional as the starters normally went into the 8th innings of all my games.)

Conversely, if you build a very strong offensive lineup in a high-scoring environment (ball park), youíre likely will have to spend more money on your offense, and the environment will cause your starting pitchers to be less likely to pitch completely games. So you better spend as little as necessary on your starting pitchers and place your team settings at using your bullpen aggressively, and rely on two or three huge (and costly) relievers. I would sometimes expect as little as 800 innings from my starters (160 X 5) and have the rest (650 innings) taken care by my bullpen. "As little as necessary" might differ from context to context. In typical 20XX leagues, I like to spend between 1M and 1.5M (per starter or reliever), but in ATG ("All Time Greats Leagues"), where there is more offense, I believe you might need to spend a little more to be effective, somewhere around 2.5M per pitcher.

Furthermore, I think that the same logic of finding the good bargains (vs finding the best players) brings about other dynamics that new owners must be aware of. For example, most owners on the on-line game flee away from expensive lefty crushers who can't start vs RHP, because, at least in 80M leagues, they are rarely useful enough to justify their salary. This in return allows lefty pitchers to be much more effective than in regular face-to-face leagues.

Bottom-line is that there are definitively some differences for experienced strat players when they begin to play in traditional 80M leagues. This said, there are also no-cap leagues in the online games, and in some of those leagues, there is also live draft---this is very close to how the game is played in face-to-face leagues

Wolfman: Do you have any special stories to tell us about special games, leagues or tournaments you have participated that used the on-line SOM base game which were amazing in your opinion or you are quite proud of?


Marc: I have had some special seasons for sure. I had one season where my team went 118-44. This was in the early stage of the on-line strat game when the salary of some players were way out of line of their true value. Nowadays, Strat has been much better in determining correctly the value of the players, so itís harder to have such successful seasons. Recently, I had a team close to 100 wins that finished first in both runs allowed and runs scored. I was proud of that feat. I also like to build a team that goes against conventional ideas that we see discussed on the forum. (

Editor's Note - For the on-line gaming, SOM has provided various forums where participants can blog and talk to each other - from what I can tell and what some of the people I have interviewed who are very involved in this form of SOM Baseball, there is a lot of chatter on these forums!) This year, for example, a few players were saying you couldnít win in 60M leagues by spending disproportionally on top players. I completely disagree with this. I think that if you can spend on the better higher-priced players, it gives more freedom in choosing the best bargains in the set. So I went spending 30M on three playersó50% of the roster, backed up by a whole set of bargain priced players. This team was successful, I had 95 wins if I recall correctly, although I was a bit disappointed because I expected that team to be even more successful than this.

Wolfman: Have you heard before of another on-line gamer Bruce Foster who has been fairly consistent in winning leagues and tournament? If so what do you think about him or his strategies (note: Bruce Foster guided me with his system and I was able to win a league following his tips).


Marc: I guess you are referring to the All-time Greats SOM baseball leagues and tournaments. Actually, Iím just turning in to this new side of the on-line game. Iím building my rating system for this version, so I should be ready for the beginning of it by next year (due to lack of time, not because it takes that long to build a rating system!!). This being said, I think that the readers will find many similarities in what I have shared and advised before, like the importance of finding the best valued players. Bruce also loves to dominate in a low scoring environment using the pitching game by spending 40M on 4 super-star starting pitcher and not spend more than penny stocks in his bullpen---or in high-scoring environments, spend 10M-12M on starting pitchers and draft a key reliever like Dale Murray to grab 250 innings.

I feel that the differences between us are explained more by the differences between the ATG version and 20XX version. In ATG, for example, I would not go with only one key reliever in Coors field with cheap starters, as there is no dominant R4 (rated reliever) in the 200X game, so having two R2 rated relievers seems to me a necessary. Another difference between these versions is how we compose our bench. On Bruceís teams, nearly all of his bench players are involved in platoons (Wolfman - yes this is what I saw) ---he would have for example 4 every day starters (positional players) and the 10 other players in his roster that would form 5 platoons. This is possible in ATG because the set is so huge, there is I believe over 4000 players available, so itís much easier to find bargain players that fit your team and fit whatís needed to have a platoon like this. However in the 20XX version and I may be wrong, but I find that itís harder to find platoons that provide a good return on your investment and that also fit your stadium so precisely. Furthermore, in the regular 20XX leagues, there is a larger set of injury-prone players than there are in ATG, and since I like to use these type of players, I need to setup a bench that is flexible enough to make sure I have enough back up. Overall, the proportion of injury-prone players is much less important in ATG, and itís easier to find an everyday positional starting player who will never be injured. This said, I do believe that regular players underestimate the impact of using platoons even in 20XX---I like to have one or two platoons that I implement on my teams.

Wolfman: Marc, is there anything else you would like to share with our readers that you think is important for them to know, that was not asked in a previous question?


Marc: I would perhaps stress more on the importance of capitalizing on your opponents weaknesses. The strategies I give here will perhaps help an owner to build winning teams and average, say 85-90 wins, but in order to win 95 games with consistency, I believe one must take the extra step of analyzing your opponents, find any trends in your division that you can exploit to your advantage, and then even micro-manage your team more. In the online game, you play a series of three games against a team every night, so this allows a player to change his lineup and settings based on the other teams you will play next.

For example, I had a team playing in the Blue Jays ballpark (Rogers Center), which is favorable to the homerun rating for right-handed hitters, I went with two lefties that allow more homers against right-handed hitters, with one of these pitchers being Wada, but I did so because I thought those lefties were my better option against two teams in my division. So I picked up an extra spot starter as well, to give my team some freedom in determining my starting rotation, and the team ended up with103 wins. The funny thing is, at the very same time I was playing with this team, another on-line gamer who has a rating system of his own, mentioned on a forum how bad Wada was for a stadium like Rogers stadium, so this shows how one must have flexibility in using a rating system.

Wolfman: Marc, if any of our members would like to get in touch with you or have other questions,
what is the best way to do this?


Marc: I am very active on the forum. Actually, I posted on the forum how to use my rating system. So, if someone has a website which could distribute freely my paper on my rating system, Iíll be very happy to share it. Unfortunately, due to copyright issues, I cannot distribute freely the EXCEL rating system itself that I created which contains all the data for every player, as it is based on the SOM rating file which is copyrighted. But if there is someone who buys the SOM rating file, then they could use my explanations to build his own file based upon my rating system.

Wolfman: Thank you for visiting with us and sharing your great insights about SOM Baseball. Continued success with your on-line leagues and tournaments.