Vol. IV, Issue #2 - February 2016
Strat-o-matic Baseball League
Champion Interviews PART I

** "North American SOM Association" - Rick Lackey **
(In December of 2015, we met the Commissioner of NASOMA, Glenn Wheeler, now it is
time to meet their reigning Champion, Mr. Rick Lackey and hear the keys to his success!)
(Notes from the Wolfman: NASOMA, (to remind our readers) is a combination league that uses a number of different approaches to play their league games. However, even though their members are from all over the U.S.) they do their key league functions in person. At the time of our first interview with NASOMA's league commissioner, with Glenn, they were involved with their playoffs. If you wish to refresh your memory about NASOMA, below is the link to Glenn's interview last year, as focus on the interview with Rick, more about his experiences with Strats and a discussion on how he became the champ. See:
http://www.ultimatestratbaseball.com/USBN-12-2015/GlennWheeler-NorthamericanSOMAssociation-December2015.htm
Now let's bring forth and listen to their new reigning league champion, Rick Lackey, the manager of the Warpigs (Note: in this league they don't use a city linked with their team names), as he discusses his 12th NASOMA title. We definitely plan going forward to hear from other league champions in future issues. So, what does it take to be a league champion? Well then please read below ........ )


---

Wolfman: As our members may recall, in December of last year, we had a chance to speak to Glenn Wheeler, who is the comissioner of NASOMA (North American SOM Association) as part of our new column to talk to different SOM Baseball League's and their members. This will be our first time to speak to a current league champion as Glenn suggested I speak to NASOMA member, Rick Lackey. So this is how we got in touch with Rick, who I have to say has been a delightful person to speak to, via our email conversation we had over the past few months.

Rick, I want to thank you for accepting my invitation to speak to us. Welcome to the Ultimate Strat Baseball Newsletter.

Rick: My pleasure. I'm always happy to help someone support Strat-O-Matic baseball.

Wolfman: Rick, I normally ask questions first to give our members a chance to meet you and to get to know you a little bit better as a person. So lets delve into your background a bit before we talk about
Strat. So first, which part of the world do you live in right now and is this where you grew up?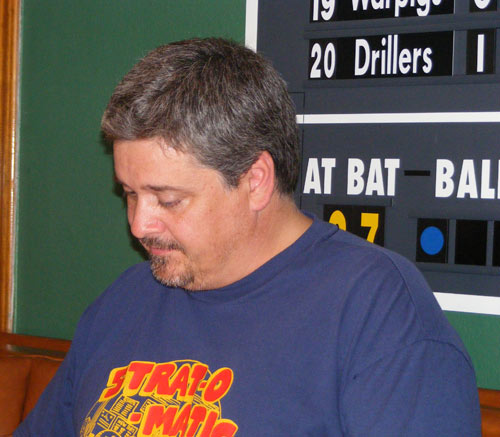 Rick: I live in Grand Prairie, Texas. It's between Dallas and Ft. Worth, about a 7-minute drive to a Ranger's game. I was born here, but we moved around quite a bit between 4th grade and 10th grade. We moved back here when I was in high school. Been here ever since. I teach PreAP English to 7th graders - this is my 31st year teaching. I've been married for 33 years and we have two grown daughters.

Wolfman: When you were younger - did you actually play baseball and if so what was your best position?
Rick: Oh sure. I played from little league through college. I mostly played 3b and pitcher.

Wolfman: What about which MLB team did you root for when you were younger and are you still a fan of this team. Are there any ball players you really followed or were your favorite?

Rick: I've been to Rangers games every year since they started in 1972, including working for them in 1984 in the pressbox, 1992 on the grounds crew, and from 1996 to 2002 as a supervisor in the ticket office; but I grew up a Cardinals fan. And to be honest, I'm a baseball fan first. I cheer players more than I cheer teams. But... the 2011 World Series almost resulted in divorce. lol. My wife doesn't have the same feelings about the Cardinals that I have. My favorite players since joining NASOMA have been Greg Maddux, Mark McGwire, Albert Pujols, Barry Larkin, Alan Trammell, Will Clark... When I was a kid, my favorites were Brooks Robinson, Ted Williams, Stan Musial, and Mickey Mantle.


Wolfman: Now turning to Strat-o-matic Baseball, how did you hear about the game. When did you first begin to play Strat-o-matic?
Rick: I first played Strat in 1968 when I was 8, but I really got involved around 1977 with 4 high school friends. We would draft teams using all the best cards from all the years available. We'd play a 48-game schedule, have a World Series, and then do it all again. Over and over and over. Loved every minute of it - especially when I won. Rod Carew was my favorite card back then.

Wolfman: What is your personal history participating in various baseball leagues either face-to-face or computer based? Have you ever played in any SOM baseball tournaments?
Rick: I played in one tournament, around 1987. Glenn and I entered the local TBA tournament (Editor's Note - TBA was before the Star Tournaments which are now called the STPC Tournaments, see our STPC reporting section to learn more ). He finished 2nd, and I finished 3rd. I still remember knocking out the tournament director with a walk-off, 2-10 clutch hit by Jack Clark. The guy became irate. It was pretty funny (but I guess not for him). I've considered playing in more tournaments, but I'm not a young guy anymore, and they're just too expensive for me. As for other leagues, I've tried a few. Most of them fell apart within a year. The only one that was well-run was the I-75 league, but even then, for me anyway, it's just too hard to devote time and passion to a team other than the Warpigs.
Wolfman: How did you become a member of NASOMA? How many years have you played in the league and tell us about the team you are managing?
Rick: The Warpigs were born in 1987 when I met Glenn and he asked me to take over a team shortly after their draft. This coming season will be my 30th year in NASOMA.
Wolfman: Glenn told us before that you are the current league champion. Can you tell us about your championship team and which players do you have? How did you build your team to win the league again?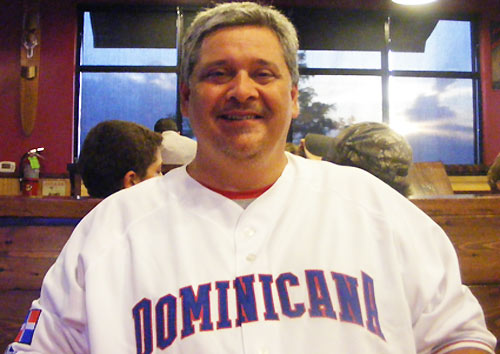 Rick: This year's team had the best pitching staff I've ever had. And since we switched to a pitcher's park two years ago, we put together some incredible stats. The team ERA was 2.28 and we held our opponents to a BA of .199, as we threw 31 shutouts. Our rotation was Wainwright, Richards, Lynn, Dickey, Fernandez, and Wacha. The bullpen was Doolittle and Loup from the left side, Strop, O'Day, Wilhelmsen, and Joe Smith from the right.
The offense was not great, but it was good enough. The biggest contributors were Tulowitzki, Cano, VMart, Beltre, Morneau, Cain, Pollock, Werth, and Yadi. The team was built mostly thru trades. I like to draft the young prospects, but I can't seem to find the patience to wait on them. In 1995, I drafted an uncarded Derek Jeter only to trade his rights for the chance to draft Hideo Nomo. Nomo won us a title in his first year as a Pig; Jeter became a legend. Totally worth it. lol
Wolfman: What were the keys to your success with this particular team? Are there any special strategies you used to build this team or special strategies you implement when playing your league games?
Rick: Well, obviously, pitching and defense were our keys to success. It wasn't always like that for the Warpigs (see team logo below). We survived for many years on 3-run homers and Greg Maddux. Luck was also involved. Getting the best record this year and getting to the World Series wasn't about luck, but winning the Series definitely was.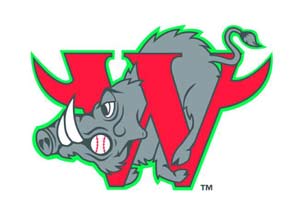 The Sidewinders had a better team, and their manager is one of our best. He had me down 3 games to 1, but we got a lucky 9th inning pinch-hit homer in game 5 on the road from the unlikeliest of guys (Spangenberg) to win 2-1. And then game 6 back home went 12 innings. The Sidewinders scored a run in the top of the 12th and had Chapman on the hill. We got a Cano single sandwiched between 2 strikeouts and were down to our last out but Molina drew a walk to tire Aroldis. Tony Watson was the only Snake reliever left, and he came on to face Beltre. The roll was 6-2, a ballpark homer. At our park, that's a 1-4 chance, but we rolled a 1 to send the series to a game 7. It was amazing, but it was just pure luck.
Special strategies for building my team? Not really. Defense up the middle, pitching depth, guys who can get on base... the usual stuff. When playing games, I just try to limit the chances of the big bats to hurt us. Utilizing Doolittle and Loup to keep Brandon Belt from destroying us was important in the World Series. Belt hit a ton of homers against us during the regular season, but we managed to shut him down in the post-season.

This was our 12th title in NASOMA. We're not well-liked. lol. In fact, there is often an adjective used in front of the word Warpigs.

Wolfman: What advice can you give to our members for finding a good league like NASOMA?
Rick: All I can say in the way of advice deals with league play: Check out the league you're getting into. Some leagues have too many rules, some have too few. Some are just making it up as they go along. And some are run by certain individuals who don't have the good of the league in their mind first. It's why lots of leagues don't last very long. It's also why NASOMA is entering our 37th year.

Wolfman: Have you ever tried to play the on-line baseball leagues that Strat-o-matic Offers?
Rick: I have not. I've tried on-line leagues, but not ones offered by SOM. And again, I find it hard to care about a team other than the Warpigs - and if I can't care about it, I'd rather not do it.

Wolfman: What do you like about NASOMA? What are the members like in this league from your perspective?

Rick: We have had the same commissioner since the league started, and he is the reason this league is so strong. I mean, yes, Glenn is probably the best game manager we have - and he's won the league 7 times, but it's his even-handed manner as commissioner that has kept NASOMA going.
Our last manager change was 2008, and that was because Herman (Glenn's dad and a league member since 1981) passed away. Before that, our last change was 2000. We are spread out all over the US, from Los Angeles to Chicago to Nashville, but we always manage to get together for the draft - and we always manage to get together for the playoffs. Everyone pays 1/16th of the total travel costs, and it works.
We have attended each others' weddings and, sadly, funerals. It's an extended family. We have a lawyer, a dentist, a fireman, a middle school teacher, a college teacher, two musicians, an accountant, a retired military guy... We're all professionals with busy lives, but we all make time for Strat. It's an important part of our lives.
We're the Mavman, the Nadman, the Snakeman, the BeeBoy, the Driller Dude, the Zapper... Derek, Jose, and I have been friends since high school - in fact, they were in that group of guys I played Strat with in the 70s. I didn't know Terry and Bryan before NASOMA, and now they're my closest friends. I can talk baseball for hours with Steve. Nobody anywhere makes me laugh as hard as the Mullen brothers, Vince and Philip. When Garth was in middle school, my wife was his 7th grade English teacher; now he's 39, a veteran Strat owner with a wife and two kids. We've all been together a long time. A big part of my life would be gone without these guys.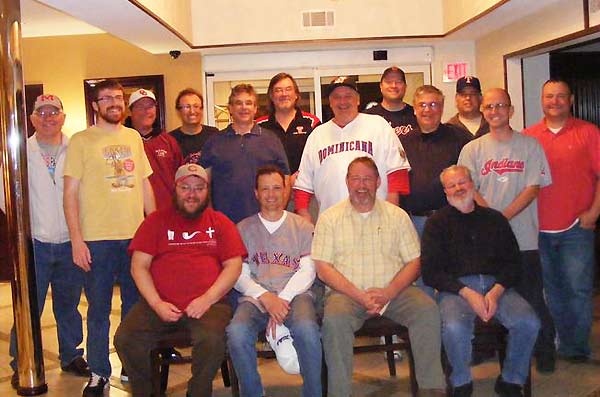 (Here is a Group Photo of the Members of NASOMA from 2013 - you can see why this league
has lasted for so many years, its just big happy family - photo from the Warpigs Team Page)

Wolfman: Have you had any special experiences (certain games that stand out in your mind that you played or series you played) being the Warpigs' manager in NASOMA that were truly amazing? Or perhaps you played in a very unusual game, or something you are very proud of. Maybe some key trade you made that helped your team to one of your many championships ...
Rick: The Beltre homer in game 6 this year of our league World Series was the most amazing, but there have been others of course. It's funny how you remember things like Craig Shipley's ballpark homer against the Buckeyes in the 1995 playoffs. Or some nobody named David Williams enticing Barry Bonds to hit into a DP in game 6 of the 2003 World Series, thwarting a Driller rally and enabling the Pigs to complete our FIRST 3-1 deficit comeback. One of the best trades I ever made was convincing an owner to trade me Alan Trammell for Dick Schofield not long after taking over my team in 1987; but the topper was getting Greg Maddux when he was still a Cub. He had some incredible years for the Warpigs.

Wolfman: Why do you personally like playing SOM? Did you ever try other simulated baseball games?
Rick: Babe Ruth said, "Baseball is, was, and will always be the greatest game in the world." SOM is the next best thing. I briefly tried APBA in 1984 when working for the Rangers. The Ranger GM at that time, Tom Grieve, even gave me his APBA game. But it wasn't Strat-O-Matic. I also love working on our league website, http://www.nasoma.org/ and the accompanying blog Big Innings. It takes a lot of time, but it keeps me from grading papers. lol

Wolfman: Finally is there anything else you would like to share with our members that I didn't ask you before that you think is important to let them know about before we end this interview?
Rick: Derek and I just purchased our plane tickets to make our first ever trip to SOM's Opening Day in February. It's definitely a bucket list item for both of us. I can't wait.

(Editor's Note: In an amazing series of synchronistic events, after we released the trailer for the videos taken by our "Johnny on the Spot" took of "Opening Day" at the Strat-o-matic Offices, February 12th, Derek who is a member of our newsletter contacted us expressing his joy at being there. So, on our page, "SOM Baseball & MLB News" for this issue, we have a photo of Derek and Rick taken by the game company at this event plus both of them supplied for us their comments about their experiences at "Opening Day", you can read their reports by clicking here.)