The 2015 Fielding Bible Awards
October 30, 2015
THE 2015 FIELDING BIBLE AWARDS have been officially announced, and the discussion has to start with center fielder Kevin Kiermaier. In his first full season in the majors, Kiermaier saved the Rays an incredible 42 runs in center field, the most by a player in a season since Baseball Info Solutions first measured Defensive Runs Saved in 2003. Previously, that record was held by Andrelton Simmons, who saved the Braves 41 runs at shortstop in 2013. Unsurprisingly, Simmons also won a Fielding Bible Award this season. Both were unanimous winners, as was Jason Heyward in right field.
Simmons and Heyward were two of the four total repeat winners this season. Simmons has unanimously won the Award in each of his three full seasons in the majors and is the best defensive player in baseball today. Former teammate Heyward won his third Award in right field, though this year it was as a member of the Cardinals. Diamondbacks first baseman Paul Goldschmidt and Astros pitcher Dallas Keuchel each won their second Awards.
The first-time winners include Ian Kinsler at second base, Nolan Arenado at third base, Starling Marte in left field, Kiermaier in center field, Buster Posey at catcher, and Ender Inciarte at multi-position.
A panel of 12 analysts, listed below, examined the 2015 seasons of every defensive player in Major League Baseball and then used the same voting technique as the MVP voting. First place votes received 10 points, second place 9 points, third place 8 points, etc. A perfect score was 120.
One important distinction that differentiates THE FIELDING BIBLE AWARDS from most other baseball awards, such as the Gold Gloves, is that there is only one winner at each position instead of separate winners for each league. The goal of THE FIELDING BIBLE AWARDS is to stand up and say: "Here is the best fielder at this position in Major League Baseball last season." Another key feature of the system is that it also recognizes the runners-up for each position. A complete record of the voting can be found in The Bill James Handbook 2016.
Here are the results of THE 2015 FIELDING BIBLE AWARDS:
| | | |
| --- | --- | --- |
| Position | Winner | Points |
| First Base | Paul Goldschmidt | 118 |
| Second Base | Ian Kinsler | 106 |
| Third Base | Nolan Arenado | 116 |
| Shortstop | Andrelton Simmons | 120 |
| Left Field | Starling Marte | 116 |
| Center Field | Kevin Kiermaier | 120 |
| Right Field | Jason Heyward | 120 |
| Catcher | Buster Posey | 116 |
| Pitcher | Dallas Keuchel | 115 |
| Multi-Position | Ender Inciarte | 94 |
The Panel

Bill James is a baseball writer and analyst and the Senior Baseball Operations Advisor for the Boston Red Sox.

The BIS Video Scouts at Baseball Info Solutions (BIS) study every game of the season, multiple times, charting a huge list of valuable game details.

As the MLB Network on-air host of Clubhouse Confidential and MLB Now, Brian Kenny brings an analytical perspective on the game of baseball to a national television audience. He also won a 2003 Sports Emmy Award as host of ESPN's Baseball Tonight.

Dave Cameron is the Managing Editor of FanGraphs.

Doug Glanville played nine seasons in Major League Baseball and was well known for his excellent outfield defense. Currently, he is a baseball analyst at ESPN on Baseball Tonight, SportsCenter, Wednesday Night Baseball, and ESPN.com, as well as a regular contributor to The New York Times, and he is the author of the book The Game from Where I Stand.

The man who created Strat-O-Matic Baseball, Hal Richman.

Named the best sports columnist in America in 2012 by the National Sportswriters and Sportscasters Hall of Fame, Joe Posnanski is the National Columnist at NBC Sports.

For over twenty-five years, BIS owner John Dewan has collected, analyzed, and published in-depth baseball statistics and analysis. He has authored or co-authored four volumes of The Fielding Bible.

Mark Simon has been a researcher for ESPN Stats & Information since 2002 and currently helps oversee the Stats & Information blog and Twitter (@espnstatsinfo). He is a regular contributor on baseball (often writing on defense) for ESPNNY.com and ESPN.com, and is the author of Numbers Don't Lie: The Biggest Numbers in Yankees History (published by Triumph Books in June 2016).

Peter Gammons serves as on-air and online analyst for MLB Network, MLB.com and NESN (New England Sports Network). He is the 56th recipient of the J. G. Taylor Spink Award for outstanding baseball writing given by the BBWAA (Baseball Writers Association of America).

Rob Neyer has been a working writer for 25 years, and FOXSports.com's Senior Baseball Editor for some of those years. When he's not writing, he's thinking about not writing. Rob will live in Portland, Oregon for as long as they let him.

The Tom Tango Fan Poll represents the results of a poll taken at the website, Tango on Baseball (www.tangotiger.net). Besides hosting the website, Tom writes research articles devoted to sabermetrics and is the co-author of The Book: Playing the Percentages in Baseball.

Our three tie-breakers are Ben Jedlovec, President of Baseball Info Solutions and co-author of The Fielding Bible—Volume IIII and The Fielding Bible—Volume IV, Dan Casey,, veteran Video Scout and Senior Operations Analyst at BIS, and Sean Forman, the founder of Baseball-Reference.com.


Complete results and voting on THE 2015 FIELDING BIBLE AWARDS are presented in The Bill James Handbook 2016, published on or before November 1 every year. For more information on THE FIELDING BIBLE AWARDS, visit www.fieldingbible.com.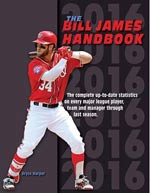 The prize of our winter hibernation.
—Peter Gammons
The most essential
annual published
for the baseball fan.
—Rob Neyer
Simply put, The Bill James Handbook 2016 is the best and most complete annual baseball reference guide available today. Avid stat fans look forward to it every year, and casual baseball fans enjoy its comprehensive content. This book contains a myriad of stats on every hit, pitch and catch in Major League Baseball's 2015 season.
New and key features include:
Paperback, $28.95
(Member price is $26.06 which includes a 10% discount when you use the code "SOMB")