Issue #4, June 2013


(Help us keep our newsletter Free, visit our on-line Collectibles, Baseball & Athletic Gear Store)


** SOM Baseball Cards with Tom Nahigian **
(thanks to our friend Tom Nahigian and his complete collection of SOM Baseball Cards we go
back into the past to share some of the first cards issued by the game company!!)


(Comments from the Wolfman)
In January of this year, we introduced a quiz for our members related to specific question about the SOM Baseball cards, unique aspects related to performance of players over all the cards ever published by Strat-o-matic. However, as time went on, maybe because only a few people like our good friend Tom Nahigian has the full collection of cards, the responses to the quiz dwindled to nothin'. So I thought (and since it was Tom's birthday on Saturday, June 29th) it would still be way cool to continue to share a few of the early baseball cards that were first published in 1961 (the 1960 All Star sets) and in 1962 (based upon the 1961 season). So Tom, we want to thank you again for your generousity to share these treasures from the past and we will continue to share the cards from 1960 and 1961 throughout the rest of the year. Thus, please find on this page, a few more cards that Tom sent to us to share with our members, enjoy!!

Wolfman Shapiro
---

What did the Baseball Cards Look Like in the First Years?
(submitted by Tom Nahigian, to read Tom's interview that
we did in our April issue, please click here)

1960 Based Cards
(just two All Star teams, National & American)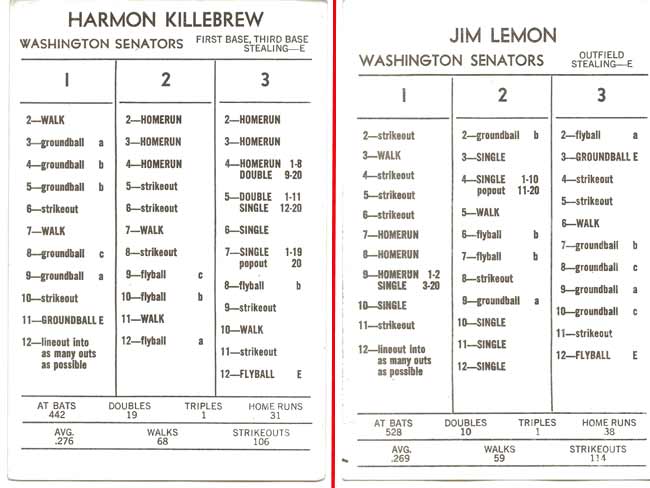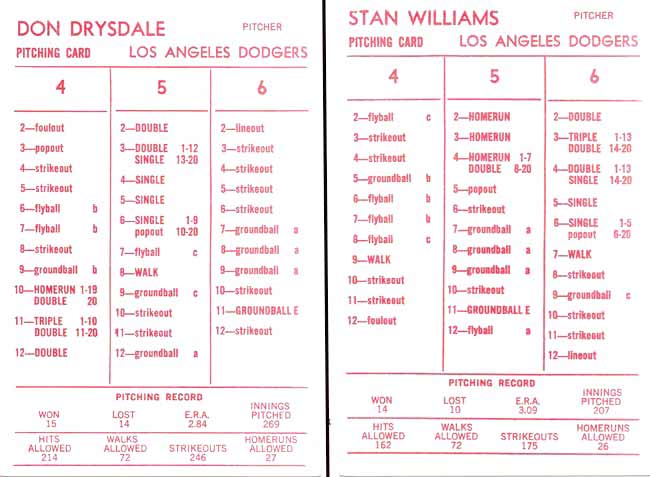 (Notice there is no fielding ratings and no X results in this season's cards)


1961 Based Cards
(A few teams and the All Star Players
National Allstars shown below)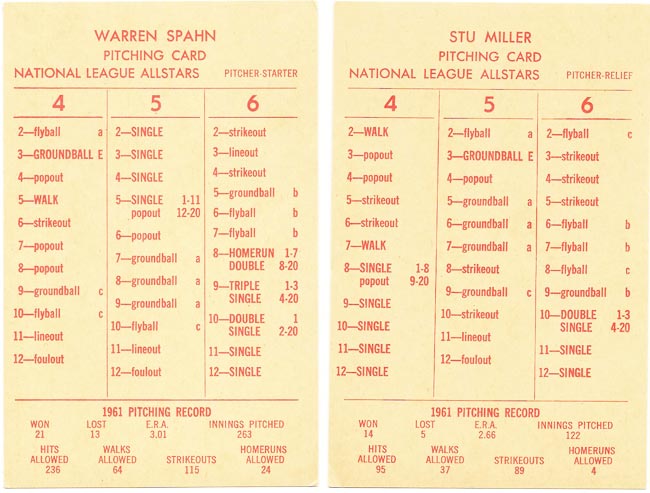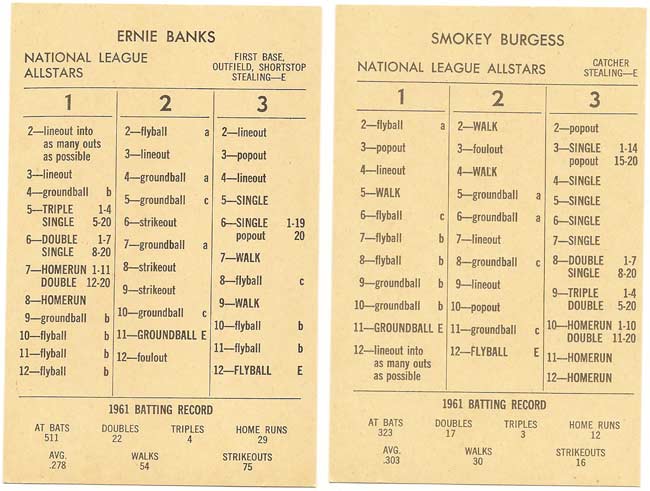 (Again in 1961, no fielding ratings or X chart and the results
are kind of conjugating around the top or bottom of the cards)


---

Contained inside this exciting issue of Ultimate Strat Baseball Newsletter:
(to view the various interviews, articles, columns and special sections click on the links {underlined}
and this will take you to the appropriate webpage)

♦ RETURN TO NEWSLETTER MAIN PAGE
♦ INTERVIEW with BRYAN ALBIN, Tournament Director of Pure Strat
♦ INTERVIEW with GENE ABOOD, Tournament Director of Star NetPlay Tourneys
♦ INTERVIEW with RICK SUTCLIFFE, former major league starting pitcher
♦ EARLY SOM CONVENTIONS COLUMN with WOLFMAN SHAPIRO -- editor of
"The Ultimate Strat Newsletter" and 2012 CBA Champion. Wolfman takes us back in
this article to the fourth national Strat-o-matic Convention in 1975 held in Champaign-Urbana, IL, at the University of Illinois as the Wolfman and his buddies organize their second convention. Wolfman will be our guide through the first nine conventions going through 1980 of which he was present at each one. We now begin the era from 1974-1980 when the conventions moved to Illinois. We will continue to share one new convention in each future issue till all of these early ones are published. Also as an inspiration for the SOM On-line Baseball Convention this year.
♦ INTERVIEW with BUTCH HABER, Baseball Historian and SOM Fanatic
how the Wolfman prepared for the Pure Strat June Skype Draft Tournament - Part One of Two Parts (Part Two will describe his experiences)
more about the amazing Tom Swank
(personal stories and comments from one of our members)
♦ COMMISSIONER's CORNER with MARC WASSERMAN -- commissioner of the Cyber Baseball Association (CBA) continues his column about what it is like to be a League Commissioner. In this article he focuses specifically about the creation of a strong league constitution.
♦ RECOMMEND ON-LINE SOM RESOURCES -- On-line Strat-o-matic and Baseball related websites that offer amazing information, special tools and products to improve your game play that we strongly recommend. In most cases, we have had personal contact with these sources who agree with the principle to work together and help promote each other.
♦ BOOKS TO DIE FOR and Become a BASEBALL GURU -- On this page we have listed special books that we are uncovering that either will expand your insights about the game of Baseball, help you in the creation of your current league teams or with your replays and learn more about the Strat-o-matic Base Game and Game Company's history. We have a special arrangement with Acta Sports to offer our members a 10% discount. We hope to add more books in the future.
---